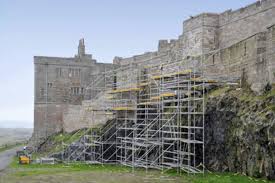 Bamburgh Castle Opt for In-House Scaffolders to Erect
Modular Scaffolding
Modular scaffolding came into its own again last month, allowing
Bamburgh Castle's own staff to handle a tricky re-pointing project
on the Norman castle's lengthy outer curtain wall.
Cost Savings and Terrain
Difficulties
The castle had been using the services
of scaffolding company PERI, but due to difficult terrain and a
need to keep costs down, they have now opted to use the PERI-UP
modular scaffolding system which the castle's two stonemasons can
erect and handle themselves. They have been trained by PERI in
order to ensure that they can work at height safely and use the
scaffolding to its best advantage.
With PERI advisors visiting once a week
to assist where necessary and to keep in touch with progress, the
stonemasons are now able to complete a small section of the curtain
wall at a time, moving the scaffolding along as each area is
finished. This is a huge bonus, given the curtain wall's position
along a rocky Northumberland coastline. The lower areas of the wall
were re-pointed some years ago, but the upper sections are eroding
in the severe coastal weather.
Set for Another Century
Bamburgh Castle is a grade I listed
building, so no anchors can be used in scaffolding, which
makes the freestanding PERI-UP system ideal. Once the curtain wall
is finished (a long procedure) the plan is to move on to work on a
landside castle tower which is cracked. There is no firm end date
for the castle restoration, as it is an ongoing work in
progress.
With a history dating back over 1500
years, Bamburgh Castle is now one of the largest
privately owned and occupied castles in the UK. It was last
restored in 1896, and those restorations were meant to last 100
years, so the current restoration project is certainly timely.
Thanks to PERI's modular scaffolding system, the curtain wall
should soon be good to last at least another century.
We at Sterk
Systems wish the staff well in their efforts to preserve this
priceless example of Britain's heritage.
https://www.sterksystems.co.uk/wp-content/uploads/2018/03/bamburgh-castle-peri-up-sterk-blog.jpg
183
275
Harold Sterk
https://www.sterksystems.co.uk/wp-content/uploads/2017/11/Sterk-Systems.png
Harold Sterk
2014-02-05 15:00:00
2014-02-05 15:00:00
Modular scaffold best solution for tricky access at Bamburgh Castle