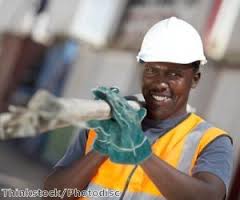 From 1 September 2013, any new entrant who wishes to join
the Construction Industry Scaffolders Record Scheme (CISRS) must
now complete a one day training course to improve health and safety
in the industry.
The CISRS is the major scaffold
training scheme and a recognised registration scheme for the whole
construction industry. A CISRS card is a demonstration of that
scaffolder's competence in their field and proof that they have the
necessary qualifications and experience to carry out the
work.
The changes made will affect the
scaffolding trainees who apply for a CISRS card. From September
they will now be compelled to complete the one day training course
before their card is issued.
Training courses can either be carried
out at one of the CISRS approved centres or on-site by a qualified
and approved member of staff who has been assessed by the CISRS as
being competent enough to deliver the correct training.
Fulfilling UKCG
Requirements
Trainee scaffolders and scaffolding
labourers will also be required to pass a CITB health and safety
test whilst existing card holders will need to undertake a
refresher training scheme once their card expires every five
years.
The training course will be both
practical and written and will test the applicant's knowledge of
health and safety procedures, basic scaffolding terminology,
regulations and code of practice related to the scaffolding
industry, scaffolding equipment and their general
responsibilities.
All contractors must fulfil the UK
Contractors Group requirement that every worker on site must have
received some kind of formal training and this new scheme will go
some way towards ensuring that.
High Risk Industry
It is a move that is largely welcomed
by the scaffolding and construction industry and it is hoped it
will help to reduce the injury statistics of what is considered a
high risk industry. The
HSE figures show that in 2011/12 there were 49
fatal injuries to workers and 2,230 reported major
injuries.
To find out more about the new entrant
trainee/scaffolding labourer CISRS card then visit their website to
purchase the CISRS
Operative Training Scheme package.
https://www.sterksystems.co.uk/wp-content/uploads/2018/03/cisrs-scaffolding-regs.jpg
200
240
Harold Sterk
https://www.sterksystems.co.uk/wp-content/uploads/2017/11/Sterk-Systems.png
Harold Sterk
2013-09-11 09:00:00
2013-09-11 09:00:00
CISRS Entrants Face New Training Requirements