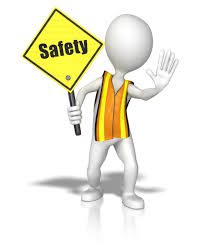 Does Health & Safety Have An Image Problem?
In the past, corporations have often
regarded health and safety procedures to be nothing more than a
burden – a stumbling block that gets in the way of managing a
profitable business. Results from recent surveys conducted by the
business standards company BSI suggest that this attitude is
finally beginning to change.
The research was compiled at the Safety & Health
Expo 2014 – an event that sees health and safety officials from
around the country congregate to discuss the importance of security
in the workplace. A whopping 93% of poll respondents claimed that
by taking health and safety measures seriously, their business has
thrived and developed in a positive way as a result.
There is nothing more important to a
business, both legally and ethically speaking, than guaranteeing
the safety of its employees. BSI spokesperson Suzanne Fribbins
commented on how reassuring it was to see corporations recognising
the importance of health and safety in the workplace, and how
effectively risk assessment procedures were being implemented
across the board. "This clear message (about health and safety)
from the top is being understood by everybody right down to those
on the shop floor" commented Fribbins. "By investing in a
management system and implementing clearly defined policies…
organisations can minimize the risks to both employees and
visitors".
Increased awareness of the importance
of health & safety in the workplace will lead to more effective
measures being put in place – thus minimising the risk of any type
of accident occurring, whether minor or major. 67% of poll
respondents believed that their company provided the right type of
resources to protect employees, whereas 93% believed that the
directors at the top were committed to making the company safe, and
were constantly looking at new ways to improve their safety
policies. Good news – for both businesses, and their
workforces.
https://www.sterksystems.co.uk/wp-content/uploads/2018/03/sterk-safety-sep15.jpg
245
206
Harold Sterk
https://www.sterksystems.co.uk/wp-content/uploads/2017/11/Sterk-Systems.png
Harold Sterk
2015-09-02 11:00:00
2015-09-02 11:00:00
Does Health and Safety Have An Image Problem?