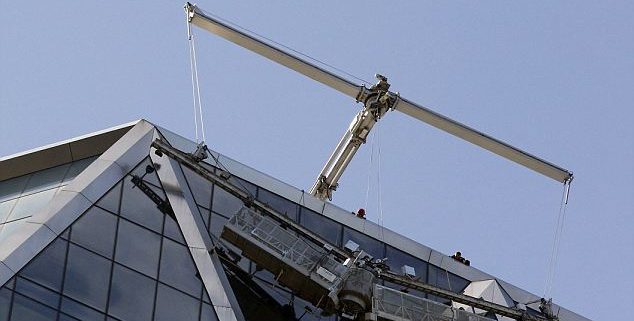 New York Window cleaners trapped on buckled
scaffold
There was
major drama in
Manhattan recently after scaffolding used for window cleaning
buckled at the top of Hearst Tower. This tower is the world
headquarters of the Hearst Corporation, a large media and
information company. It owns a wide collection of well-known
brands including Elle and Cosmopolitan. The Hearst tower was
the first skyscraper approved for construction in Manhattan after
September 11th.
Two window cleaners, aged 26 and 49 were left
hanging 45 stories up the huge skyscraper, as their platform
scaffold folded in half. The scaffolding was reported by
New York Magazine as being the most complicated scaffold in New
York and cost an estimated $3 million to build. (Check that link by
the way for a fascinating insight into window cleaning in
Manhattan!)
Crowds quickly gathered on the ground,
watching as the scene unfolded. The whole incident was broadcast
live on US news television stations and a news helicopter was
hovering close by filming the men close up. Thankfully the New York
Fire Service were able to quickly secure the two men with rope
before rescuing them. A four foot square section of glass was
removed two floors below the platform and the men were pulled
through to safety. That must have been a highlight for that
office!
The whole incident lasted an hour and a half.
There was relief all round as the men were lifted away from the
scaffolding completely unharmed after their terrifying ordeal.
Despite being in such a dangerous situation, the men didn't appear
to be too scared and were seen smiling and waving at the news
helicopter. One of the men was even seen chatting on his mobile
phone as he hung in mid-air! I guess you need to be a relaxed kinda
window cleaner to work 600ft above the ground.
We are no strangers to scaffolding and
working at height at Sterk Systems. What happened here is that the
scaffold platform, which is intended to fold in the middle for
transportation and locks when flat, became unsecured, and the
platform folded when it wasn't supposed to, with the men in it.
Safety when working at height is always of
utmost importance. The incident in Manhattan will no doubt undergo
an in depth review to establish what went wrong and how to ensure
it never happens again. The locking mechanism to hold the platform
flat either broke, or it wasn't secured correctly.
Here at Sterk Systems we are
always on hand to offer help and advice relating to safety and
equipment for work at height. We are experienced and knowledgeable
on all areas of scaffolding.
https://www.sterksystems.co.uk/wp-content/uploads/2018/03/manhattan-rescue.jpg
589
634
Harold Sterk
https://www.sterksystems.co.uk/wp-content/uploads/2017/11/Sterk-Systems.png
Harold Sterk
2013-07-03 00:00:00
2013-07-03 00:00:00
Don't Leave Me Hangin' - NY Window cleaners trapped on scaffold