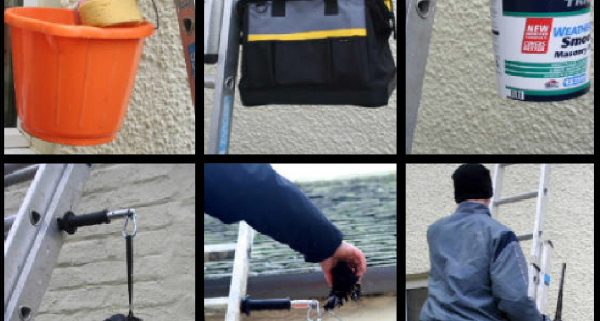 Sterk Systems stocks
LadderLimb!
At Sterk Systems we are delighted to announce a new exciting
ladder safety product coming soon to our online store – the
LadderLimb.
It was designed and brought to life by entrepreneur
farmer, Alistair
Taylor. The product is a great success story and something that
really fits in nicely with our wide range of ladder safety
products.
As Seen On TV
You may have already seen Alistair Taylor featuring his
breakthrough design on the latest Dragon's Den
series on BBC One. Despite not getting the warmest of receptions
(those Dragon's can be an awkward bunch), its media presence is
snowballing rapidly, with news articles and TV appearances becoming
more frequent.
Unlike the Dragons (who were unhappy with the pitch, not the
product), the nation has recognised what a neat and useful
product the LadderLimb actually is; It has even won UK Hand
Tool of the Year and is now attracting interest and sales
globally.
How It Works
The LadderLimb is a simple but effective device. The rubber
'limb' fits easily onto any one of the hollowed rungs on the side
of of your ladder, left or right, and then holds whatever you
attach securely in place by means of a locking catch. You can move
the limb up and down the rungs as you change height whilst working.
It's ideal for use with single ladders, double ladders and triple
ladders.
What It Can Be Used For
There are many different jobs the LadderLimb can be used for.
Whether you are a trades person or do DIY at home, you need one of
these. Examples include gutter cleaning, tree pruning, window
cleaning, as well as painting and decorating. It is very versatile.
Imagine it as your extra hand and is exactly what you need when
you're up your ladders and could do with someone to hold a few pots
and tools for you.
Here at Sterk Systems we are all about ladder safety and the
LadderLimb is a welcome addition to our wide range of ladder safety
products. It's already received great feedback and will be
available on our site next week. Get in contact with
us if you would like to place your order in advance or ask any
questions about this new design. We're always happy to help.
https://www.sterksystems.co.uk/wp-content/uploads/2018/03/ladderlimb-pot.jpg
711
600
Harold Sterk
https://www.sterksystems.co.uk/wp-content/uploads/2017/11/Sterk-Systems.png
Harold Sterk
2013-10-18 12:00:00
2013-10-18 12:00:00
LadderLimb | Bucket Hook | Third Hand | Ladder Safety