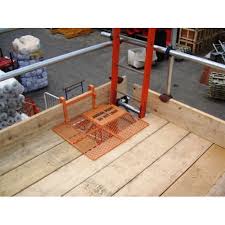 As the second most common form of injury for workers
in the UK, falls from height are something that should be taken
seriously.
Failure to create a safe environment when working at height,
whether for domestic or work purposes, can pose serious risks. And
one painter in North London found out the consequences for himself
when he suffered a fall from scaffolding.
An Unnecessary Accident
London painter David Currie got a shock on a job in November
2012 when he fell through an unprotected ladder opening. An
unnecessary failure of health and safety regulations, the
scaffolding firm faced fines of thousands of pounds for not meeting
the Construction Regulations 2007.
David arguably came off worse though, as the
company's failings left him with a fractured arm and a dislocated
shoulder. However, this is just one of many examples of negligence
when it comes to scaffolding and working at height. Scaffolding
falls cause a shocking number of injuries and even fatalities every
year.
Most of these could easily be prevented if
people took the time follow HSE regulations when construction trade
scaffolding, access towers and other structures at height.
Preventing a Scene
Of the incident involving David Currie, a HSE
representative made it clear that the accident was 'entirely
preventable'. In fact, Beacon Scaffolding could have avoided making
the headlines for their negligence and facing fines of over £6000
if they'd simply played by the rules.
Whether you're doing some work on your own
home with DIY scaffolding or completing a job for a client, it just
isn't worth risking such catastrophes. Taking the time to check
that your construction meets the health and safety regulations, and
putting in safety measures such as protected ladder traps or
railings, can avoid any nasty slips, trips and falls. Beacon
Scaffolding probably wishes it had now anyway…
David's accident was just one of the many
falls from height that occur when people fail to follow the HSE
guidelines. So invest in safe scaffold towers and ladders from
Sterk Systems to make sure your project runs smoothly without any
'slip ups'.
https://www.sterksystems.co.uk/wp-content/uploads/2018/03/scaffold-ladder-safety.jpg
225
225
Harold Sterk
https://www.sterksystems.co.uk/wp-content/uploads/2017/11/Sterk-Systems.png
Harold Sterk
2014-05-07 15:00:00
2014-05-07 15:00:00
Painter's Injuries Caused By Scaffold Ladder Access Failings