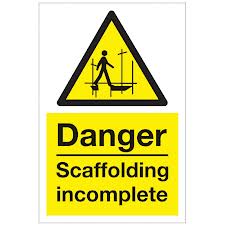 The shocking death of a contractor in Greater Manchester helped
to focus attention onto health and safety within the scaffolding
industry and sent out a clear warning to those scaffolding firms
who ignore health and safety regulations.
Fall from Height
41 year old Tony Causby was employed as a
labourer by S&S Scaffolding Ltd of Atherton in Manchester.
Although Mr Causby was not a trained scaffolder, he was part of a
scaffolding team working on a warehouse in the Leigh area of
Greater Manchester.
He had already helped to erect the
scaffolding which was being used to replace cladding and guttering
on the warehouse roof and was now preparing to dismantle the
scaffold when he stepped through a skylight and fell 42ft to his
death.
The Health and Safety Executive investigated
the incident and found that the scaffolding company which had
employed Mr Causby had made serious breaches of health and safety
regulations.
HSE Failings
Despite S&S Scaffolding being a
specialist scaffolding firm and fully aware of the dangers of
working at heights, they failed to ensure the health and safety of
their employees and these basic failings led to the death of Mr
Causby.
There were around 80 fragile skylights on one
half of the roof which Mr Causby was working on, each measuring
around 1m x 2m. None of the skylights had coverings on them to
prevent workers from falling through.
Health and safety regulations advise that
skylights or any other openings on a roof be covered to prevent
such an accident. Or as an alternative, crash mats or netting could
have been placed underneath the skylights which again would have
prevented workers from falling through.
The scaffolding company pleaded guilty to
breaches under the Work at Height
Regulations 2005 and under the Health and Safety
at Work Act 1974 which states that "It shall be the duty of
every employer to ensure, so far as is reasonably practicable, the
health, safety and welfare at work of all his employees".
The company was fined £75,000 and ordered to
pay £31,517 in legal costs. It is hoped that the ruling will
prevent similar accidents in the future.
https://www.sterksystems.co.uk/wp-content/uploads/2018/03/scaffold-incomplete.jpg
225
225
Harold Sterk
https://www.sterksystems.co.uk/wp-content/uploads/2017/11/Sterk-Systems.png
Harold Sterk
2013-08-14 10:00:00
2013-08-14 10:00:00
Scaffolding Firm Fined Over Labourer's Death