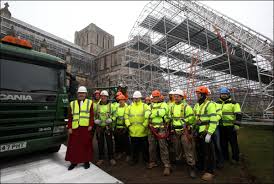 Scaffolding doesn't get more serious than that which
has recently been placed on Winchester Cathedral.
The building, which is almost 1000 years old, has been fitted with
an enormous 27-tonne scaffolding frame.
It's the biggest scaffolding structure to
ever be fitted to a British cathedral, a job requiring attention to
the smallest of details to ensure smooth sailing.
Come and View
The incredibly delicate job attracted more
than 200 onlookers as the immense scaffolding frame came perilously
close to the ancient stonework. The frame is scheduled to remain in
place for two years to allow extensive roof repairs to be carried out to
the building. Included in the repairs is the restoration of lead
work on the eastern part of the roof.
The cathedral is a Grade 1 listed building
and one of the largest cathedrals in England. The installation of
the frame, which took the phrase "mobile scaffold" to a new level,
took an entire day and started at 9.00 in the morning. The work
kicked off with a prayer from Canon Roly Riem, who is the
vice-dean.
A Crane to Match
The operation was carried out by a crane
weighing two hundred tonnes, one of the biggest in the country.
However, the work was initially postponed because the crane lacked
the necessary counterweights to complete the job.
This long-term job is part of a £20.5million
scheme to improve Winchester Cathedral, which includes the
construction of new exhibition spaces and a full renovation of the
already present Learning Centre.
https://www.sterksystems.co.uk/wp-content/uploads/2018/03/winchester-catherdral-scaffolding-team.jpg
184
274
Harold Sterk
https://www.sterksystems.co.uk/wp-content/uploads/2017/11/Sterk-Systems.png
Harold Sterk
2015-06-17 15:00:00
2015-06-17 15:00:00
Scaffolding on Winchester Cathedral