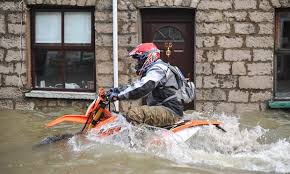 Winter Storms Batter UK
Scaffolding
November and December have seen a series of
powerful winter storms which have battered the UK. Winds have
reached over 80mph in some cases, bringing down scaffolding and
causing chaos across the country.
Storm Barney Batters UK
On November 17th, Storm
Barney hit the UK bringing with it gusts of up to 70mph. In
Maida Vale, London, a woman suffered head and shoulder injuries as
she escaped
collapsing scaffolding. The 30m high tower fell down onto
terraced houses, which were subsequently evacuated by the emergency
services. The woman was treated by the London Ambulance Service
before being taken to hospital. Police and firefighters secured the
scene.
A spokesperson from London Fire Brigade said:
"Firefighters are always on hand should any buildings, hoardings or
scaffolding be left in a precarious position and posing a risk to
life because of high winds."
In Birmingham, a
tower collapsed onto the carpark of the Fort Shopping Centre.
Meanwhile, scaffolding erected next to a partially demolished
building in nearby Dudley was left hanging from the building,
blocking a road.
Dean Pearson, landlord of a nearby pub said,
"When the scaffolding came down there were people in the pub. The
road is blocked, so they've had to leave their cars and walk along
the road to catch taxis home."
Storm Desmond Brings
Destruction
December 5th saw the arrival of Storm
Desmond which yet again brought more high winds and stormy
conditions to the UK, causing 40m lengths of scaffolding to
collapse onto parked cars in Loggerhead, North Staffordshire.
Thankfully, no one was hurt in these incidents.
Although the newspaper reports often cite the
high wind speed as being the cause of scaffold failures, they also
tend to overlook the fact that well-anchored scaffolding can
withstand the majority of what British storms throw at it. With
careful consideration of
industry guidance and proper planning, most of these incidents
should be preventable.
https://www.sterksystems.co.uk/wp-content/uploads/2018/03/storm-desmond-sterk.jpg
174
290
Harold Sterk
https://www.sterksystems.co.uk/wp-content/uploads/2017/11/Sterk-Systems.png
Harold Sterk
2015-12-09 13:00:00
2015-12-09 13:00:00
Winter Storms Batter UK Scaffolding