Sterk Systems In the News
On this page you can see the magazines that Sterk Systems has appeared in over the last 5 years. Have a nose around and get some background info on us. If you've got a question about a particular article you're interested in drop us a line.
Sterk Systems at London 2012
STERK MEETS LONDON 2012 CHALLENGE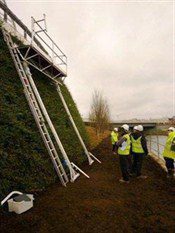 When Willerby Landscapes was contracted to maintain the grounds of a famous Park under construction in Stratford, east London, it faced the not inconsiderable challenge of accessing a five-metre-high sloping wall. Having first contacted Sterk Systems in 2009, requesting a system to assist in building the wall, Willerby then got back in touch two years later for a system to help maintain it.
Contracts Supervisor at Willerby, Paul Pollington, explained the challenge to Sterk Systems. It was a particularly difficult access problem. Unlike conventional vertical walls, this one is set back at an angle of 70 degrees. And the ground at the foot of the wall slopes down and away from it, too. Strict safety rules on site meant that the plants on the wall couldn't be maintained from a ladder, and following the resurfacing of the path beneath access by cherry picker was out of the question as well, even where the ground wasn't steeply sloping.Sterk Systems' solution was a three-metre-wide Triangular Bridging System, with its platform height adjustable from 1.5 to 5 metres. The normal working angle for the supports of the system is 70 degrees and so they matched the angle of the wall perfectly. The issue of the sloping ground was easily solved by special one-metre-high adjustable feet, allowing each side of the two supports to be adjusted to a different height. The system supplied by Sterk also has an integral winch, which means the entire platform – which also comes with safety handrails all round – can be built at ground level and then raised up to the required working height.
Willerby Landscapes are extremely pleased with their Sterk System. It would have been difficult, if not impossible, to have maintained the planted wall without it. The fact that the system can be dismantled and moved along the wall within a matter of minutes is also a great plus point for their busy staff. 

The sloping wall at the London 2012 site can now be easily maintained using Sterk's Triangular Bridging System.
If you have an access challenge which you think Sterk Systems can help with contact us on 01494 582051.