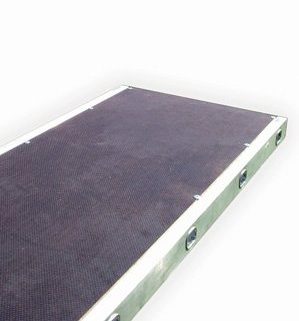 Scaffold  Staging Boards
Trestle (or Scaffold) Staging Boards are a superior, rigid board that safely spans the gap between two trestles.
Used with or without handrail systems, staging boards are exceptionally strong and durable. They provide for easy side-to-side working and have plenty of depth to allow for moving feet around.
Our Lyte and Youngman ranges of scaffold staging boards are perfect for low level work. Lyte and Youngman are the market leaders in staging boards. They are fully certified and tested to EU and British Standards. When you buy a brand such as Lyte or Youngman you are not only taking care of your employees, you are also making it easier to win approval from insurance companies.
Why Buy Scaffold Staging Boards?
Buy staging boards:
For the safety of yourself and your employees
If you believe in economic, value-for-money purchasing
To save time and cost on every job
For complete customer satisfaction
If you want your employees to focus on doing quality work as well as finishing on time
Lyte and Youngman staging boards are made with an aluminium frame, slip resistant decks and rubber inserts for extra grip. Why take a risk?
Staging boards can be used by up to 2 or 3 operatives plus their equipment at once. For example, decorators and their paints or plasterers and their materials can save a vast amount of time compared to ladders and steps.
Note: use of ordinary wooden scaffold boards when performing trestle work may lead to injury as they do not have the non-slip properties of Lyte and Youngman trestle boards and are not as strong.
Sterk Systems' range of trestle staging boards is continually expanding. Contact us now on 0845 257 0235 to ask for advice on your specific requirements.
Display 30 Products per page