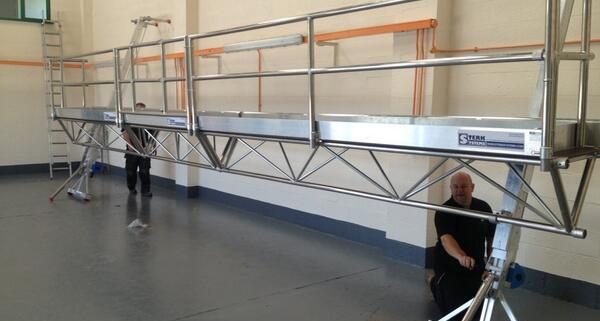 In an effort to drive down the cost of their property
maintenance and refurbishment services, Novus
Property Solutions have reduced their reliance on independent
scaffold contractors, by purchasing their own equipment.
The new Triangular Bridging System,
purchased from Sterk Systems in June 2013, will be used during
roofline refurbishments, and painting and repairs above
conservatories.
The Sterk family, owners of Sterk Systems, have been
providing safe solutions for working at height since 1937. Over the
last 70 years, their products have evolved from the ladder wagon
originally used by Arie Sterk to tend to church clock towers, to
more sophisticated ladders, platforms and mobile scaffold towers.
The Buckinghamshire based company imports the Triangular Bridging
System from Artilan.b.v. in Holland, and sells it across the
country through their online shop.
Like Sterk Systems, Novus Property Solutions is a family
run company, and provides a comprehensive range of property
maintenance and refurbishment services throughout the UK. Until now
Novus have been using scaffolding from independent contractors.
This cost was passed onto the customer, impacting on the
competitiveness of Novus' rates. To help drive down the costs, and
provide the best possible value for their public and private sector
clients, Novus moved to acquire a working at height solution they
could own and deploy themselves.
Speaking on behalf of Novus Property Solutions, Carl Allcock
said "in the past we have used independent scaffold contractors for
this type of work. With this new bridging system we can eliminate
that cost and provide our clients with a more competitively priced
service".
The Triangular Bridging System has been custom made to meet the
business needs of Novus, while keeping safety as a top priority,
and features:
– 9m wide span for bridging conservatories
– Winch system which enables the system to be built at ground
level, then raised to working height
– Two lifting forks to lift the bridge units into place above
conservatories
– Variable platform height of between 3 and 5 metres
– Handrail, with built in gate to enable access from the
front
– Custom made safety end rails with integral toe boards
– Custom made toe boards on the wall-facing side of the
bridge
– Additional supports for platform height of 4-7 metres
This versatile system includes an adaptor set, so the separate
bridge units can be combined with Novus' own mobile scaffold
towers.
The system, described by Mr Allcock as "safe, cost
effective equipment for working at height", enables Novus
Property Solutions to simultaneously provide its employees with a
safe working environment, while offering a great value, high
quality service to its clients.
To find out more about the Triangular Bridging System and see
how it can work for your clients call Sterk Systems on 0845 257
0235.
https://www.sterksystems.co.uk/wp-content/uploads/2018/03/triangular-bridge-system-novus.jpg
450
600
Harold Sterk
https://www.sterksystems.co.uk/wp-content/uploads/2017/11/Sterk-Systems.png
Harold Sterk
2013-09-20 15:00:00
2013-09-20 15:00:00
Novus Drives Down Customer Costs with Innovative Sterk Bridging System