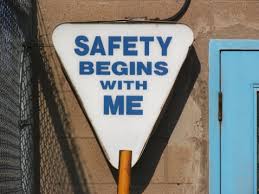 Construction, after agriculture, is statistically the second
most common industry for injuries.
While the rate at which injuries occur
is falling year by year, with 39 fatal injuries
in construction reported in 2013 versus an average of 53 in the
previous five years, it is still important to be aware of the risks
when running or working on any kind of construction project.
The most common types of injury also tend to
be the most serious, sadly, and so it is important to understand
the measures you can take and the guidelines you need to follow to
have the best chance of avoiding them.
1. Falling
Falling from height is the biggest cause of
construction accidents. Working at height can be anything from working
on a roof or scaffolding to having to climb a stepladder. While
there are clear guidelines around choosing when it is safe and
appropriate to use things like ladders, and around the level of
competence a person needs to do this safely, falls from height
account for more accidents in the construction industry than
anything else. Obviously, not all accidents are preventable,
however without making sure ladders are secure and of a suitable
height for the job, the risk becomes much greater.
2. Falling Objects
As well as people falling from height
themselves, another worryingly common accident in construction is
having an object fall from height and hit somebody. Even small
objects when they drop from scaffolding, roofing or other high
areas can cause serious or even fatal injury, so another concern
when working at height is keeping tools, materials and other items
carefully secured.
3. Tripping
Tripping over things is another common cause
of accidents on building sites. Actually, tripping is a common
cause of injury in all kinds of workplaces, including far safer
sounding environments like offices! On a construction job, however,
there can often be a lot of tripping hazards, and that is why it is
essential for people to be trained in preventing these where
possible, and avoiding them where it isn't.
In an ideal world, paying enough attention to
health and safety would prevent every one of the accidents that
occur in construction, but of course, this is not an ideal world.
It is, however, possible to reduce the number of injuries that
occur every year even further by making sure that health and safety
rules do their job!
Keep it safe guys!
https://www.sterksystems.co.uk/wp-content/uploads/2018/03/safety-begins-with-me-sterk.jpg
194
259
Harold Sterk
https://www.sterksystems.co.uk/wp-content/uploads/2017/11/Sterk-Systems.png
Harold Sterk
2014-04-10 16:00:00
2014-04-10 16:00:00
3 Shockingly Common Accidents at Construction Sites