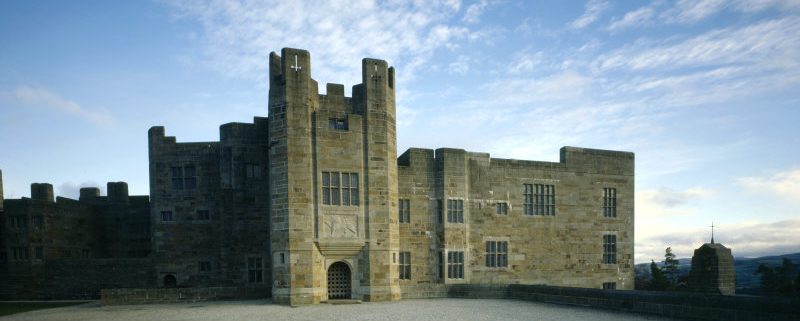 Castle Drogo Unwrapped
Castle Drogo

, one of the West
Country's most enigmatic historic buildings, is finally going to
lose the distinctive scaffolding in which it has been wrapped for
over a year.
The
imposing stately home, built in 1911 and finished in 1930, was the
last castle to be built in England, and is constructed entirely of
granite. However, since being built, it has never been properly
waterproofed against Dartmoor rain.
Critical Situation
In 2012,
the situation became critical and there was a real risk that the building could be
lost unless emergency repairs were undertaken. The roof was
leaking, as were many of the 900 windows, and the pointing between
the granite slabs was worn away.
Following
an appeal by the owners, the National Trust, to raise the £11
million needed to make the building watertight, a large scale
reconstruction project was launched in 2014. The roof of the
building (an area roughly the size of two football pitches) has
been reworked, and aspects of it redesigned to cope with the wet
weather. Work has included the removal and reinstating of 2,355
granite blocks on the roof, weighing a total of 680 tonnes, and
before the project ends nearly 40 miles worth of pointing will have
been replaced.
Tonnes of Scaffolding
So far,
544 tonnes of scaffolding have been in use on the castle, including
24,700 poles and sections, equivalent to 63.4 miles of scaffolding.
All of this has been wrapped in a distinctive white scaffolding box
which has dominated the Dartmoor skyline for months.
The announcement of the removal of the scaffolding was
made over social media and pictures were released showing
the first fragments of the scaffold coming down. However, staff at
the castle have revealed that works are not due to end until 2017,
so there may be more scaffolding in store before Castle Drogo is
finally restored to its former glory.
https://www.sterksystems.co.uk/wp-content/uploads/2018/03/castle-drogo.jpg
638
800
Harold Sterk
https://www.sterksystems.co.uk/wp-content/uploads/2017/11/Sterk-Systems.png
Harold Sterk
2016-02-03 10:00:00
2016-02-03 10:00:00
Castle Drogo Unwrapped