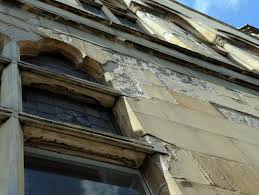 Dressed to Impress: How Inverness Town House Will Weather
the Storm
Inverness Town House is destined to be shrouded in scaffolding
for the next two years, but this is no funeral. The iconic building
is due to undergo major renovations over the upcoming twenty four
months, so instead of creating an eyesore of scaffolding for
tourists and locals alike, the local council have elected to use
'building wrap' printed to represent the Inverness Town House in
its full glory.
The Press and Journal reported that the
building will undergo an estimated 1.2 million pounds worth of
repairs – including stone repair and replacement, roof repairs,
mortar re-pointing, window maintenance and replacement, and mortar
re-pointing.
However, work on the iconic building
will be kept under wraps thanks to scaffolding wrap printed to look
exactly like the building in all its original glory. The
scaffolding wrap will help to shield the building while it is under
maintenance and help disguise the work in progress.
A Long Term Issue
Maintaining an old public building or
landmark is a headache for any council, but maintaining one popular
with tourists or the public complicates the matter even further –
and it's a problem in cities all over Europe. For example the Trevi
Fountain in Rome, an incredibly popular tourist draw, is expected
to remain until October 2015 to allow restoration work to be
complete. The fountain will be mostly obscured by scaffolding until
it reopens – and much to the disappointment of visitors, the
scaffolding wrap is being used for advertising purposes.
Keep It Pretty
However, with a little effort,
long-term maintenance work can be kept as hidden as possible.
Printed scaffolding wrap is a popular method of disguising building
works often employed on landmarks in need of maintenance and care.
It helps to minimize the disruption to visitors keen to visit a
particular building – particularly important for iconic buildings
which attract visitors from around the world – and hopefully make
the sight more pleasant for locals as well.
It's hard to make scaffolding look
attractive and there will always be people who are put off by
scaffolding wrap, whether it's printed or not. However, the most
important thing is to maintain buildings and other landmarks for
future generations, and often that can't be safely and effectively
done without the use of scaffolding. Printed scaffolding wrap can
be the icing on a cake that's being remade and preserved for years
to come.
https://www.sterksystems.co.uk/wp-content/uploads/2018/03/inverness-town-house.jpg
195
259
Harold Sterk
https://www.sterksystems.co.uk/wp-content/uploads/2017/11/Sterk-Systems.png
Harold Sterk
2015-03-04 13:00:00
2015-03-04 13:00:00
How Inverness Town House Will Weather the Storm