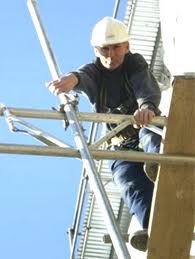 Types of scaffolding
When it comes to buying scaffolding, there is
a lot to consider and a wide choice available. Sometimes it's
difficult to know where to start.
Safety is always the number one factor, along
with being the right type for the job. Before you buy your
scaffold, you need to consider what type of access you need to do
the work, what the ground is like, and how long it is going to be
needed.
Some example
types of scaffolding include mobile and fixed scaffold, access
towers, bridging systems, suspended and aerial lifts.
Sterk Systems has a wide range of the best
types of scaffolding and we can provide advice and assistance
whilst you decide on what best fits your needs.
What Type Suits What
Job?
Scaffolding can be very versatile and one
type can be used for several jobs.
Bridging systems
are especially good for work above conservatories. Fixed and
tower scaffolding are useful for longer-term work at height.
Suspended and aerial lift scaffold are good for being able to move
up and down easily as needed.
Our mobile folding
towers are great choices for inside and outdoor decorating,
maintenance and light trade use.
Scaffold Accessories
There are a number of accessories available
to use with scaffolding. Platform
boards are important tools and there are a various sizes
available.
Youngman boards
are always a good choice due to being designed for rigidity and
strength whilst remaining as light as possible. Although some do
use them, planks of wood are strongly not advised and are very
unsafe.
Whatever type of scaffold you buy, you will
also need some type of ladder to access it. Read more about ladder
safety in our recent ladders blog post.
Above all else, when buying any type of
equipment for working at height, ensure it meets British Safety
Standards. More information on safety can be found on the HSE
website, and they even have a
scaffold checklist.
Key points from this list
include:
– Always follow the guidelines for erecting
and dismantling scaffolding.
– Ensure only competent people work with the
scaffold.
– Remember to carry out regular safety
inspections.
https://www.sterksystems.co.uk/wp-content/uploads/2018/03/sterk-scaffold-choice.jpg
259
195
Harold Sterk
https://www.sterksystems.co.uk/wp-content/uploads/2017/11/Sterk-Systems.png
Harold Sterk
2013-10-25 15:00:00
2013-10-25 15:00:00
Essential Questions for Scaffold Purchase - What do I need to know before I place my scaffold order