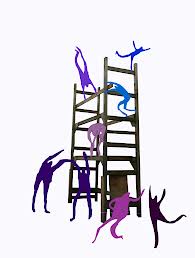 Scaffolding is erected to help workers with the temporary
repair, construction or decoration of a building. If you're using
scaffolding to carry out your work, it's essential to make sure you
are using the right type.
Safety is of paramount importance and you probably won't be
surprised to hear that the most common worksite accidents involve
those carried out whilst working at height. Around 65% of
construction industry workers use scaffolding on a daily basis, so
it's important to get it right.
The main types of scaffolding include:
Fixed Scaffolding:
Remains in one place, so is ideal for long-term jobs.
Suspended or Swing Stage Scaffolding:
This type is popular with window cleaners. It is hung from a cable
or from the top of a structure. It moves up and down easily using
levers and pulleys.
Mobile Scaffold Towers:
Scaffold towers are usually on wheels for easy
transport from one location to another. They are useful when
carrying out redecoration of a building and come in a range of
types suited to anything from small DIY jobs, to professional and
trade work.
How to Choose the Best Type of Scaffolding
Before beginning a project using scaffolding, it's important to
determine the scope of the project involved to find out which is
the best type for the job.
Factors to consider include:
– Building Design
Is the work going to be carried out at a single level or over
multilevel? If the work is over multilevel you will need to opt for
scaffolding that is flexible and can cover all of the required
heights. A scaffold system, such as a Triangular bridging system or, for smaller
jobs, a telescopic scaffold tower, might be your best
option.
– Project Length
If the project is long-term, fixed scaffolding may be
appropriate.
– How Many Workers
The number of workers using the scaffolding will indicate how
large the platform and boards you require will need to be.
– Budget
Safety comes first, but you will also need to consider if your
budget can cover the scaffolding costs after establishing which
type is most appropriate for the job.
– HSE Approved
Ensure the scaffolding conforms to British Standards and comes
with a guarantee. (Sterk
Systems scaffolds do).
Scaffolding is a very useful tool for all workers at height. There
are various types to choose from depending on the job at hand. If
you still need help deciding which type of scaffolding is best for
you, you can always get
in touch and we will happily help you out.
https://www.sterksystems.co.uk/wp-content/uploads/2018/03/happy-scaffolding.jpg
258
195
Harold Sterk
https://www.sterksystems.co.uk/wp-content/uploads/2017/11/Sterk-Systems.png
Harold Sterk
2013-06-05 12:00:00
2013-06-05 12:00:00
Get the Job Done Right: Choosing the Best Scaffolding for the Job