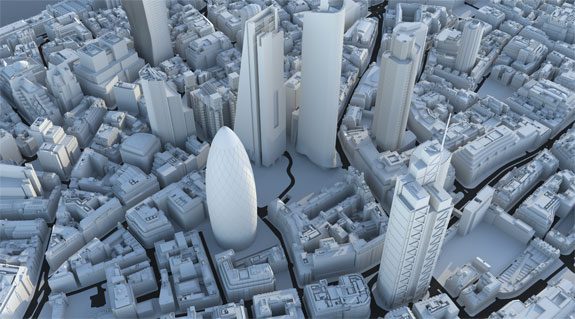 London's Getting Taller!
The number of people working at height in
London is set to change dramatically in the next few years, due to
the fact that double the number of skyscrapers and tall buildings
are in the planning stages compared to two years ago, and only
three planning applications have been refused in the past year.
Planning and
Construction
The report carried out by GL Hearn and New London Architecture shows
that in the last year, 119 new buildings that are at least 20
storeys high have begun the planning process, bringing the total
number of tall buildings in the pipeline to 436. Of these, 89 are
currently under construction, 233 have been approved but work has
not yet started, and 114 are in the early stages of the planning
application stage; almost double the 230 buildings which were
undergoing the same process two years ago.
Working at Height Across
London
The report also found that, of 94 buildings
which submitted plans for approval in the past 12 months, 43 were
approved and just three were refused permission. The majority of
the 43 approved buildings form part of the Greenwich Peninsula scheme, which aims to
bring 13,000 new homes to the area. Those rejected were Gagarin
Tower in Southwark, Hounslow House in the west of the city and the
"Central phase 4 site" at Woolwich. The remaining developments are
still waiting for a planning decision.
Elsewhere in London, 1 Undershaft will be as lofty as the Shard,
becoming the tallest building in the square mile. There are also 93
tall buildings proposed for Tower Hamlets, including what would be
the tallest residential building in Europe at 240.5 metres,
Hertsmere House. There are 67 tall buildings planned in Greenwich,
and a further 23 in Barnet, as London begins to rival other global
cities in terms numbers of skyscrapers.
https://www.sterksystems.co.uk/wp-content/uploads/2018/03/london.jpg
319
575
Harold Sterk
https://www.sterksystems.co.uk/wp-content/uploads/2017/11/Sterk-Systems.png
Harold Sterk
2016-03-16 10:00:00
2016-03-16 10:00:00
London's Getting Taller