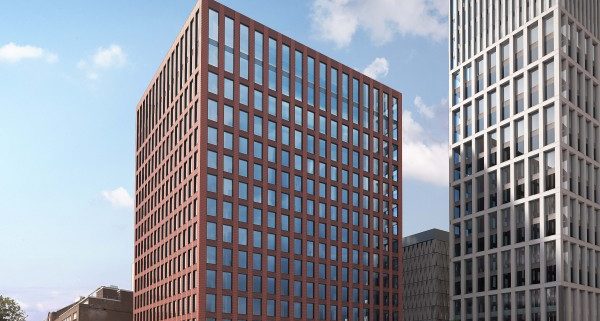 Reading's Tower: A lot of scaffold
For the past few months the Thames Tower
in Reading has been hidden by a wall of scaffolding while
redevelopment work is carried out. The scaffold will remain in
place for some time to come, with the work only due to be completed
in early 2017.
As part of the major redevelopment, machinery which had been
located on the roof of the building was moved to the basement. This
made way for the construction of an additional four floors, which
has increased the height of the tower by between 18 and 20 m.
Exterior Terracotta Cladding
Terracotta cladding is also being fitted to the exterior of the
building, which is designed to match other red-brick buildings
within Reading, such as the town hall. The corners of the building
have also been squared off.
Inside the tower, up to 150 contractors are working to complete
each floor, from the bottom up. They started by fitting out a new
reception area which is double the height of the original,
containing new space for collaborative working, a restaurant and an
outdoor seating area.
Restoration Partnership
The redevelopment of the Thames Tower is a result
of a partnership between Landid Property and Brockton Capital.
Landid, which was formed in 2005, has previously worked on a number
of other developments including the Verizon building at Junction
11, Reading International Business Park and the award-winning One
Valpy development.
The original Thames Tower was built in 1974, but had become
derelict. Plans were submitted for the building to be demolished
and replaced with a 25 storey skyscraper, but this idea was
scrapped by the previous owners LeSalle, who deemed it too risky.
Eventually the current owners bought the building and eventually
decided to renovate the existing structure, to "reinvigorate a worn
and dated 1970s building into a mixed use workplace of the 21st
Century."
https://www.sterksystems.co.uk/wp-content/uploads/2018/03/thames-tower-600x721.jpg
721
600
Harold Sterk
https://www.sterksystems.co.uk/wp-content/uploads/2017/11/Sterk-Systems.png
Harold Sterk
2016-02-24 10:00:00
2016-02-24 10:00:00
Reading's Tower: A lot of scaffold