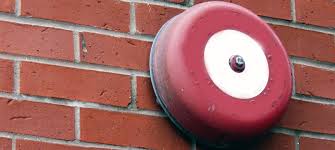 Scaffold Alarm Launched at Buildshow 2015
An exciting revelation took place at the 2015
Buildshow
construction event, held 6th-8th October at the NEC Birmingham, as
VPS Site Security unveiled their brand new scaffold alarm.
Construction sites that use scaffolding across the country are
constantly subjected to break-ins, spats of vandalism, and theft –
and this innovative alarm system is set to combat these crimes and
misdemeanours. The estimated figures for total financial loss due
to theft and damage reach an astounding £150 Million annually, and
VPS Site Security have created this new device with an aim to deter
opportunistic burglars from causing chaos.
Reducing Crime and Saving
Money
Phil Bunting – Head of Integrated Solutions
and EU Support at VPS Site Security – has claimed that the
company's new design will "significantly reduce the risk of theft
and vandalism" on scaffold sites, and that the new alarm system
will save the industry millions of pounds in the long run. "We have
over two decades of proven in-house design and development"
commented Bunting. "We're delighted to add scaffolding alarms to
our range". The VPS representative also claimed that the scaffold
alarm will bring a "much needed technological and professional"
boost to the construction industry.
The Smart Way to Save Scaffold
Sites
The scaffolding alarm system represents
another innovative and bold step from VPS Site Security, who have
already garnered acclaim for their
JCB Smart Tower. The new alarm boasts three separate levels of
security for scaffold sites – with detectors, built-in radio and
CCTV included, all supported by long-lasting, high-energy
batteries. It's the smart way to save scaffold sites that the
industry has been crying out for, and may well be looked back on in
future years as a pivotal moment.
https://www.sterksystems.co.uk/wp-content/uploads/2018/03/alarm-sterk-systems.jpg
150
335
Harold Sterk
https://www.sterksystems.co.uk/wp-content/uploads/2017/11/Sterk-Systems.png
Harold Sterk
2015-11-25 15:00:00
2015-11-25 15:00:00
Scaffold Alarm Launched at Buildshow 2015