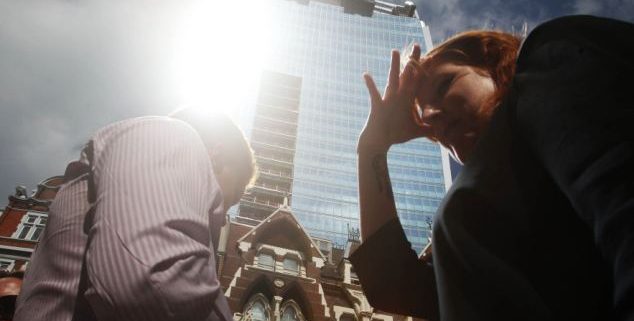 Scaffold Screen Acts As Sunblock For Properties In
Tower's Firing Line
If you're looking for sunscreen for a winter getaway – may we
suggest some scaffolding??
This summer a scaffold screen was erected as a form of sunscreen
to protect buildings from intense sunshine reflected by a new
skyscraper. The 37-storey development at 20 Fenchurch Street in
central London, may only be half-finished, but the tower has
already been blamed for starting fires, scorching fabric, damaging
paintwork, and melting a car!
Scaffolding Supports Huge Sun Screen
Developers of the £200m project, Land Securities and Canary
Wharf, have funded the street level scaffolding, to run along the
front of impacted buildings, facing the tower. Unlike the scaffolding towers
from Sterk Systems, this structure is not designed for access,
but instead supports a huge sheet of mesh fabric. The temporary
mesh screen is absorbing the intense, reflected rays, to prevent
any further damage to the properties facing the tower. The new
skyscraper has been dubbed the Walkie Talkie because of its shape
but we like its new nickname the Walkie Scorchie!
Fluke Angle Causes Damage
For two weeks of the year, the angle of elevation of the Sun, is
such that at a particular time of day, the Sun's rays are reflected
by the building, down to street level. With the prolonged hot and
dry weather this summer, this reflected sunlight was intense enough
to start fires!
Vehicles Melt Under Intense Reflected Sun Rays
It's not just buildings that have been put at risk by this
bizarre phenomenon. Two vehicles suffered heat damage when they
were parked in the firing line. Jaguar XJ owner Martin Lindsay,
claims the reflected sunlight warped the car's bodywork, melted a
wing mirror and damaged the car's badge. Heating and air
conditioning engineer, Eddie Cannon, claims the dashboard of his
van melted as a result of the heat. To prevent further damage to
parked vehicles, three parking bays have been closed.
Long Term Solution In Development
The tower's developers are working on a long-term solution, so
that next Summer, the scaffold screen will no longer be required.
The skyscraper's designer Rafael Vonoly had a similar challenge
with the Vdara Hotel in Las Vegas
which he also designed. Local businesses in Fenchurch Street
were happy to accept the scaffolding as a short term solution, but
do not want the appearance of their shops, or access to their front
doors permanently restricted by its presence. The City of London
granted permission for the scaffolding tower on a temporary basis
only.
https://www.sterksystems.co.uk/wp-content/uploads/2018/03/suns-glare-need-scaffold-fenchruch-street.jpg
423
634
Harold Sterk
https://www.sterksystems.co.uk/wp-content/uploads/2017/11/Sterk-Systems.png
Harold Sterk
2013-10-04 13:00:00
2013-10-04 13:00:00
Scaffold Screen Acts As Sunblock | Sun melts car | Walkie Scorchie