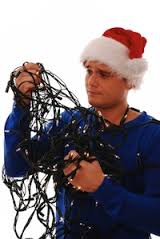 It's the most wonderful time of the year, right? Christmas
is for eating too much, exchanging presents and spending time with
family – and of course, making sure your home looks its very
best.
Usually when we think of Christmas decorations we think of
Christmas trees and tinsel, but there's no reason the outside of
your house has to miss out on all the fun. Outdoor decorations are
becoming increasingly popular in the UK – here are some top tips
for safely creating an outdoor light extravaganza.
Do a Double Check First!
Check all your decorations are in safe
working order before attempting to place any of them – particularly
your lights. Check they are safe to use outside and make sure you
follow manufacturers guidelines. Always test lights before hanging,
even new sets as you don't want to plug in for the big reveal, only
to discover you have a few blown bulbs that spoil the whole
display. For more tips on using Christmas lights safely try
http://www.hometips.com/diy-how-to/install-christmas-lights.html.
Analyse Your Requirements and Prepare
Your Equipment
Even Christmas cheer doesn't negate the
inherent risks of working at height, so be sure to review your
working environment and choose the equipment most suitable to the
job. How high will you have to reach? What kind of ground will your
ladder be resting on? Are you working alone, or will you have a
spare set of hands? These questions will help you discover if a
step ladder or DIY ladder will suffice, or whether it would be
better to use something more multifunctional such as DIY scaffold
tower.
Exercise Caution
Always think of safety first when
working at height. Be careful not to lean too far out of your
support system's centre of gravity, particularly when reaching to
fix that final light in place. Consider a safety helmet and wear
warm gloves with good grip.
Have Fun!
'Hanging the Christmas lights' is a day
that only comes once a year – so stay safe and make sure you and
any helpers you have enjoy an exciting, Christmas-themed
day!
https://www.sterksystems.co.uk/wp-content/uploads/2018/03/christmas-lights-sterk.jpg
239
160
Harold Sterk
https://www.sterksystems.co.uk/wp-content/uploads/2017/11/Sterk-Systems.png
Harold Sterk
2014-12-10 13:00:00
2014-12-10 13:00:00
Christmas Decorations : Outside