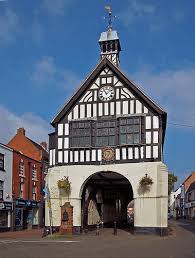 With scaffolding, it's all fun and games until a job gets
delayed. A 17th century town hall in the west of England will
remain under scaffolding wraps for the forseeable future; the
Shropshire Star reports; and the local residents aren't happy with
the news.
9 Months In…
The town hall in Bridgnorth has been
shrouded in scaffolding wrap for eight months so far, and was
erected so that Ian J Nash Restoration could ensure the building
was watertight and halt any ongoing decay. However, a town hall
clerk recently indicated that there is no definite date for the
work to be completed. It's been reported that the wood and the lime
mortar have been repaired and the scaffolding has been left in
place while an agreement is reached to fund the painting
work.
The works have already cost the public
£46,000.
A "Monstrosity"
Local resident Robert Baker spoke out
against the project, referring to the scaffolding as a
"monstrosity" and though he could see the benefits of a
"rejuvenated" town hall, he was concerned that at the current rate
of progress, the project would take another year or more to
complete.
Bridgenorth is not the only town in the
UK suffering from scaffolding eyesores. Back in March we looked at
how Inverness Town Hall will be under scaffolding wrap for the next
two years while stone building undergoes a complete overhaul,
including stone repair and replacement, roof repairs, mortar
re-pointing, window maintenance and replacement, and mortar
re-pointing.
However, the local council has tried to
reduce the visual intrusion by opting to use 'building wrap' –
scaffolding wrap printed to look like the building underneath. Read
the full story about Inverness Town Hall
scaffolding wrap.
https://www.sterksystems.co.uk/wp-content/uploads/2018/03/bridgnorth-scaffold.jpg
258
195
Harold Sterk
https://www.sterksystems.co.uk/wp-content/uploads/2017/11/Sterk-Systems.png
Harold Sterk
2015-05-27 00:00:00
2015-05-27 00:00:00
Bridgnorth Town Hall Still Shrouded in Scaffolding