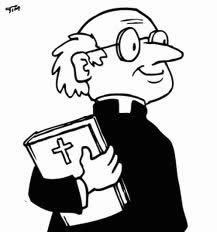 Vicar Scales Scaffold in Money Raising Bid
When vicar Rev Bernadette Hegarty discovered that St Paul's,
Bow Common, in London's East End needed over £100,000 worth of
urgent repair work carried out, she decided to take matters into
her own hands – and asked parishioners to sponsor her in a 60ft scaffolding climb up to the top of the
steeple.
Fear of Heights and Ladders
Despite a deep fear of both heights and ladders, Rev Hegarty
said a few urgent prayers before her ascent, and made it to the top
supported by children from the local school who cheered her along
from their playground below. At the top of the scaffold she enjoyed
views over her whole parish, from Limehouse to Mile End.
The climb raised £800 towards the total cost of repairs, which
could reach up to £300,000 as work is needed both on the leaky
roof, and on electrical and heating systems.
Urgent Repairs Needed
St Paul's is one of many churches that will need large scale
works carried out this year. There are 16,200 Church of England
churches, of which 12,000 are listed buildings. English
Heritage estimated a few years ago that £925m would
need to be spent on essential and often urgent repairs to these
buildings.
However, research carried out by The Churches Trust suggested that only about
£112m of that was actually being raised. This means that a lot of
repair and maintenance work is not being carried out, and church
buildings are being left to decline even further, causing some to
close their doors for good.
To address the increased demand for funding for repairs, the
government announced a tripling of the £15 million Church
Roof Fund to £40million in last year's budget. However, the rest of
the £72m that is being spent is raised by parishes themselves,
partly through fundraising events such as Rev Hegarty's daring
climb.
https://www.sterksystems.co.uk/wp-content/uploads/2018/03/vicar.jpg
232
217
Harold Sterk
https://www.sterksystems.co.uk/wp-content/uploads/2017/11/Sterk-Systems.png
Harold Sterk
2016-01-27 10:00:00
2016-01-27 10:00:00
Vicar Scales Scaffold in Money Raising Bid