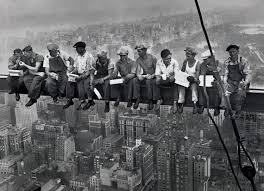 Working at Height Guidelines: What's New in
2014
As the weather heats up and more
construction workers are at work on scaffold let's take a look at
the updates to the Working at Height guidlines this year and make
sure we're doing it right.
It is estimated that in Britain, over 10
million people have to work at height as a regular part of their
job, and that laws and guidelines relating to working safely with
ladders, scaffolding and other things that require people to climb
to heights affect over a million businesses. In January 2014, new
guidelines were released that aim to reduce the complications
around safely working at height, in order to save these businesses
time while still keeping workers as safe as possible.
While the changes made by the national Health
and Safety Executive are designed to cut down on red tape and make
things easier for businesses who have to rely on workers using
scaffolding and ladders and working in high up areas, there have
been a few misconceptions. A common one is that ladders are banned
from use. This is actually not the case. A lot of jobs do require
someone to go up a ladder, the guidelines only discuss how people
who need to do this need to be trained and the safety precautions
that need to be taken.
The Chair of the HSE, Judith Hackitt, said of the changes:
"It's important to get working at
height right. Falls remain one of the biggest causes of serious
workplace injury – with more than 40 people killed and 4,000
suffering major injuries every year. We have a sensible set of
regulations and have been working with business to improve our
guidance – making it simpler and clearer and dispelling some of the
persistent myths about what the law requires. The result is advice
that employers can count on to help them manage their businesses
sensibly and proportionately."
A key part of the guidelines is ensuring that
individual workers, as well as businesses, know where their own
responsibilities lie when it comes to working at height. By making
the guidelines easier to understand, the Health and Safety
Executive hopes that employers and workers will be able to ensure
that any ladder work or other work at height is carried out safely
as well as efficiently.
https://www.sterksystems.co.uk/wp-content/uploads/2018/03/new-york-scaffold-image.jpg
191
264
Harold Sterk
https://www.sterksystems.co.uk/wp-content/uploads/2017/11/Sterk-Systems.png
Harold Sterk
2014-07-16 11:00:00
2014-07-16 11:00:00
Working at Height Guidelines - updates for 2014